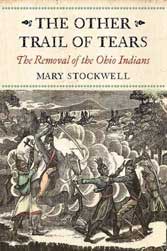 The Story of the Longest and Largest Forced Migration of Native Americans in American History.
The Indian Removal Act of 1830 was the culmination of the United States' policy to force native populations to relocate west of the Mississippi River. The most well-known episode in the eviction of American Indians in the East was the notorious "Trail of Tears" along which Southeastern Indians were driven from their homes in Georgia, Alabama, and Mississippi to reservations in present-day Oklahoma.
But the struggle in the South was part of a wider story that reaches back in time to the closing months of the War of 1812, back through many states--most notably Ohio--and into the lives of so many tribes, including the Delaware, Seneca, Shawnee, Ottawa, and Wyandot (Huron). They, too, were forced to depart from their homes in the Ohio Country to Kansas and Oklahoma. The Other Trail of Tears: The Removal of the Ohio Indians by award-winning historian Mary Stockwell tells the story of this region's historic tribes as they struggled following the death of Tecumseh and the unraveling of his tribal confederacy in 1813.
At the peace negotiations in Ghent in 1814, Great Britain was unable to secure a permanent homeland for the tribes in Ohio setting the stage for further treaties with the United States and encroachment by settlers. Over the course of three decades the Ohio Indians were forced to move to the West, with the Wyandot people ceding their last remaining lands in Ohio to the U.S. Government in the early 1850s. The book chronicles the history of Ohio's Indians and their interactions with settlers and U.S. agents in the years leading up to their official removal, and sheds light on the complexities of the process, with both individual tribes and the United States taking advantage of opportunities at different times. It is also the story of how the native tribes tried to come to terms with the fast pace of change on America's western frontier and the inevitable loss of their traditional homelands. While the tribes often disagreed with one another, they attempted to move toward the best possible future for all their people against the relentless press of settlers and limited time
Paperback, 2015, 6" x 9", 402 pages, 16 b/w illustrations. $28.00