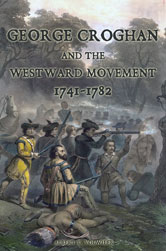 George Croghan, (c. 1720—1782), was an American colonial trader who won the confidence of Indian tribes and negotiated numerous treaties of friendship with them on behalf of the British government. He served as deputy superintendent of northern Indian affairs for 16 years (1756–72).
Migrating from Ireland in 1741, Croghan settled on the western frontier near Carlisle, Pa., and won early success in trade with the Indians. His rapport with the Indians was helped by his early mastery of their customs and languages, and he quickly expanded his trading enterprises throughout the adjacent Ohio Territory. Appointed as Indian agent for Pennsylvania in the 1740s, he wrested the allegiance of the area Indians from the French and negotiated the Treaty of Lancaster (1748) with the Miami and the Treaty of Logstown (1752) with the Delaware, Shawnee, Iroquois, and Wyandot.
After the outbreak of the French and Indian War (Seven Years War) of 1754–63, Croghan's far-flung trading business collapsed, and he accepted an appointment as chief deputy to Sir William Johnson, the British superintendent of northern Indian affairs. In this capacity, he conducted extensive negotiations for more than a decade with tribes that complained of abuses in the fur trade and encroachments of white settlers upon their land. Croghan undertook to negotiate an end to Pontiac's War (1763–64) and succeeded in concluding a settlement with the rebellious Ottawa chief in 1765.
This book is a revised second edition of the 1926 release with additional pictures and maps. This book is also indexed.

Paperback, 1926 (reprint). 6" x 9", 226 pages, b/w photos, bibl, index, $19.95.