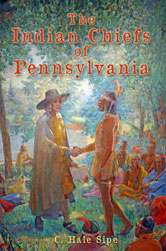 The Indian Chiefs of Pennsylvania is a factual account of the indigenous history of North America's Eastern Frontier and the contributions made by many outstanding chiefs in shaping it. Originally published in 1927, this 570-page book is one of the classics of Eastern Frontier Indian history. From the formation of the Iroquois confederation in 1570 through Cornplanter's death in 1836, Sipe discusses the tribes that inhabited Pennsylvania and how their forced migration westward across the Allegheny Mountains of Pennsylvania into the Ohio country lit the fires that would keep the western frontier ablaze for the next forty years.
As you read Indian Chiefs, you begin to know and understand the motivation the natives had in trying to hold onto their native land and the conflicts that would result. Pennsylvania was the gateway to the west through which all the major players of the Indian wars would pass: Indian traders, frontiersmen, and pioneer families. The final 100 pages detail Indian events of Pennsylvania during the Revolutionary War complete with a chronological table of leading events in the indigenous history of Pennsylvania.

Paperback, 1927 (reprint). 6" x 9", 570 pages, index, $29.95.