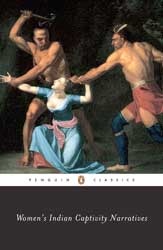 Enthralling generations of readers, the narrative of capture by Native Americans is arguably the first American literary form dominated by women's experiences Many such captivity narratives were fact-based but often transformed by authors or editors into spellbinding adventure stories, sentimental tales, spiritual autobiographies, or anti-Indian propaganda.
The ten complete narratives collected in this book span two hundred years (1682-1892) and show literary as well as geographical diversity. From Mary Rowlandson's famous account and Hannah Dustan's infamous escape (after she captured her captors), to Sarah Wakefield's passionate critique of white society and Mary Jemison's gradual-and permanent-embrace of Indian life, a variety of experiences is represented. Derounian-Stodola's fascinating introduction to the history and influence of the genre shows it to be a foundation text of American culture with enduring popular appeal.
Chapters include: Hannah Dustan, Mary Rowlandson, Jemima Howe, Mary Kinnan, Mary Jemison, Mary Godfrey, Sarah Wakefield, Emiline Fuller, Elizabelth Hanson, Panther Captivity.