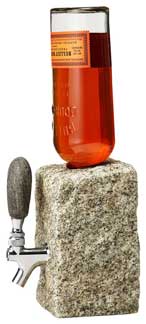 Handcrafted in New England, these are a wonderful conversation piece for any bar, and perfectly functional for use and for display.
To use, simply unscrew/uncork the bottle and place it on a table. Pick up stone tap, turn it over and let bottle neck slide into the predrilled hole. Fits any standard shaped liquor, wine, favorite mixer bottle, etc. After dispenser is on top, hold both the stone and bottle and turn it over. You're now ready to pour!
When finished, reverse the process but this time over a sink as there will be a tiny bit of liquid in the neck that may drip out. Take the stone dispenser off, rinse with hot soapy water, place the cap/cork back on the bottle and you can keep the bottle proudly displayed until the next use.

Although we stock three different colors (see photos below) each will differ slightly from the photos shown as each stone is unique, including the stone used on the handle.

---
Prices indicated include shipping to any address in the continental U.S. Please contact the gallery if shipped to any other destination for a proper shipping quote.