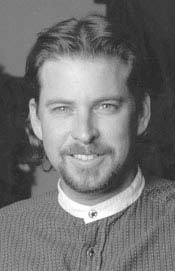 Morgan Weistling began his artistic training on his father's lap at 19 months of age, where he learned how to draw and more importantly, use his imagination. At the age of 15, Morgan began his art school studies at the Brandes Art Institute. Working in a Los Angeles art supply store while attending art school, Morgan chanced to show his artwork to a prominent illustrator. As a result of their encounter, at the age of 19, Weistling found himself employed at a top movie poster agency in Hollywood.
For the next 14 years, Morgan illustrated for every movie studio in Hollywood. His clients included Universal/Amblin Entertainment, Disney, MGM, Paramount, 20th Century Fox, Warner Brothers, Columbia Pictures and TriStar. In addition to movie posters, Weistling created all the cover artwork for the video series, McGee and Me for Focus on the Family and his art can be seen on numerous magazine, book, CD and video covers as well as Sega pinball machines.
With his masterful use of oils, Morgan Weistling brings a scene to life with spectacular lighting, His canvases are filled with brushwork that tells a story beyond the subject matter. "My hope is that people will enjoy viewing my artwork as much I enjoyed painting it. For me, art is my language used to communicate to others how I see God's creation." Weistling met his wife, JoAnn, in art school. Their daughters often a model for his paintings. They make their home in California.